---
JOHNS HOPKINS UNIVERSITY AND UNIVERSITY OF MINNESOTA JOINT SEMINAR
ASSESSING EXPOSURES FROM E-CIGARETTES
Faculty from Johns Hopkins University and the University of Minnesota will present their current research on assessing toxicity of e-cigarettes.
Monday, December 2
11:15am – 12:15pm
ATTEND IN PERSON OR ONLINE
Space is limited.  Please register if you plan to attend in person.
Ana Rule, PhD
Johns Hopkins Bloomberg School of Public Health
Dr. Rule is Assistant Professor in the department of Environmental Health and Engineering and director of the Exposure Assessment Lab. Dr Rule is currently PI of an R01 grant from NIH investigating exposure to metals from electronic cigarettes. Her group is investigating how E-cigarette use behaviors and device characteristics influence metal exposures, and are characterizing these exposures using non-invasive biomarkers.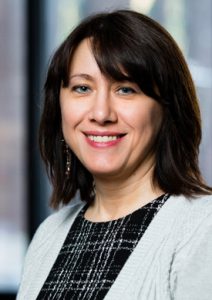 Irina Stepanov, PhD
University of Minnesota School of Public Health
Dr. Stepanov is an Associate Professor in the Division of Environmental Health Sciences at the University of Minnesota. Dr. Stepanov's expertise is in applying analytical biochemistry tools to characterize tobacco-derived harmful exposures and associated effects in users. She is applying constituent and biomarker assays developed in her laboratory in several NIH-funded studies dealing with tobacco regulatory science, including an U01 grant on standardized research e-cigarette (SREC)..
Hosted by the Midwest Center for Occupational Health and Safety Education and Research Center (MCOHS) and the Johns Hopkins Education and Research Center for Occupational Safety and Health
---